Fish 30A with Dead Fish Charters
Dead Fish Charters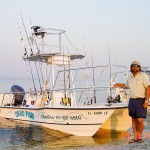 Offshore Fishing with Captain Larry Pentel on Dead Fish Charters is a native of South Walton, growing up just 300 yards from the beach. Having fished the local waters for over forty years he is very familiar with all the fish populations, their habits and most importantly their habitats. The finest Snapper and Grouper fishing found anywhere, sight- fishing Cobia along the sandbar or spectacular Tarpon fishing at Indian Pass are all part of the seasonal experiences provided by Capt. Larry. Bottom Fishing for Snapper and Grouper, Surface Fishing, Cobia Fishing, Tarpon Fishing are just a few of Capt. Larry's specialties.
Learn more and book a fishing charter at DeadFishCharters.com
Make Explore30A.com your source for everything 30A.