30A Home Sales | Sept 2016
30A Home Sales | Sept 2016 | Key Real Estate Market Indicators Show Strong Market for 30A Homes
30A Home Sales | Sept 2016: As shown in the chart, inventory levels of 30A homes have continued to trend down over recent years, and in Sept 2016, they reached a new low of 528 homes listed for sale on the 30A corridor. Not since May 2005 have we seen inventory levels that low. Many buyers struggle to find the right home today and some have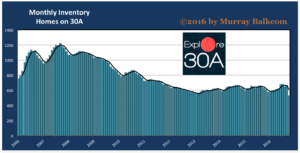 turned to buying lots or tearing down older homes, and building new. While low inventory doesn't make it easy for buyers to find homes, it does help keep prices and demand high. Average Sale Price to List Price Ratio for 30A Homes has continued to hover around 94%-95%, meaning on average, of the homes which sold on 30A, they have sold for about 94-95% of the listing price. 
Not surprisingly, that low inventory level has pushed prices higher, which should in turn, slow down the number of buyers. The demand still exists, but many will be priced out of the market. In today's market, unless you have a very unique property which is highly desirable, you better get your listing price right from the start, IF you plan on selling. The September median sold price for 30A homes was $707,000, with the average selling price coming in at $1,265,200. Another positive of the current 30A home market is the Days on Market has remained under 6 months. The homes which are selling, are priced right and selling fast. The homes which are over-priced, continue to sit on the market and on average have longer Days on Market.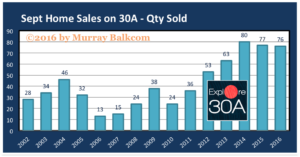 The quantity of 30A homes sold in September 2016, as reported by Realtors to the Emerald Coast Association of Realtors was 76. Looking at the chart, you can see that the for the last three Septembers, we've seen a fairly consistent quantity sold.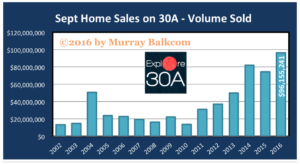 Though you haven't heard people talk about it, record home sales on 30A are still coming through. Going back to 2002, prior to the real estate boom of 2004-2006, September 2016 is the best September on record for 30A home sales, with a reported $96,155,241 in sold dollar volume. Not only was it the best September on record, but it is also reflects a 29% increase over Sept 2015.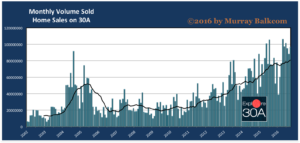 Looking back at the historical Monthly Volume Sold for 30A Homes as shown in the chart, since mid-2011, the dollar volume sold has trended up at a fairly steady pace. The black line in the chart represents the 12 month moving trend line, and you can see that one average, the trend has been strong and steady.
That's the 30A real estate market snapshot. If you want to learn more about a particular neighborhood or area, please call me for a private consultation. Also, if you are interested in buying or selling in the 30A or Destin areas, please contact Murray Balkcom to learn more about how to use my experience to make the best purchase or selling decisions.
Murray Balkcom is Broker Associate with 30A Local Properties located in Grayton Beach, FL, proudly serving the 30A real estate market since 2003.
Find and Follow Murray Balkcom: 
Murray Balkcom | Empowering People to Maximize Their  Real Estate Goals and Dreams