SOLD 38 Blazing Star Dr | WaterColor FL
SOLD 38 Blazing Star Dr
Just Sold 38 Blazing Star Dr! Murray Balkcom, Luxury Realtor | Broker Associated proudly worked with the buyer to closer 38 Blazing Star Dr, located in the 30A beach neighborhood of WaterColor, FL. This 2,307 sq ft, 2-story, 4 bedroom, 5 bathroom home overlooking the park is part of SummerSweet Place at WaterColor. Selling price of the home was $735,000 which comes to $318.60 per square foot.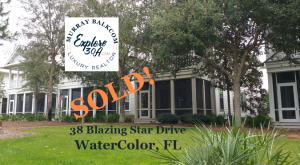 Located on 499 acres, WaterColor is known for its eco-friendly design and environmental stewardship and is a shining example of how responsible development is enhanced by nature. In addition to the award-winning WaterColor Inn, there are plenty of shops and restaurants, nature trails, tennis club, spa and beach club. WaterColor is also known as being located on a rare coastal dune lake, Western Lake, which is the perfect place to try stand up paddling at YOLO Board Adventures located at the WaterColor BoatHouse.
If you have any interest in buying or selling in WaterColor or any other areas of 30A, please contact Murray Balkcom, Luxury Realtor today. Explore30A.com
Murray Balkcom is a Broker Associate with 30A Local Properties located on 30A in South Walton, FL.