Explore the Best Places to Eat on 30A
"Where's a good place to eat on 30A?" is a question often asked of me, while working around vacationers to 30A. It's a valid question if you vacation or have a second home on 30A, as there are no chain restaurants at which to dine. My answers depend on the people asking the question. Some are looking for the place where you can get the best seafood, some want the best view of the emerald-green water of the Gulf of Mexico, some demand a kid-friendly place, and some just want to find a quiet place to get away from kids. Everyone has different tastes.
30A has been a long-time favorite for people with families to vacation. For the best places to eat on 30A if you have kids, I recommend Pizza by the Sea, with two locations. The original location is in WaterColor Crossings, next to Publix grocery store, and the other is located on the second floor in Gulf Place (outdoor dining only). Not only is it great for kids, but adults too will enjoy the freshly baked pizzas. My new favorite is the Margarita Pizza, which has sliced tomatoes and fresh basil, and I don't like tomatoes! This pizza has won me over from the basic pepperoni pizza which I have loved for years. Not in the mood for pizza, try the meatball sandwich. I never knew there was such a thing until I saw someone eating one a few years ago. Delicious! Pizza by the Sea also serves wine and beer, in addition to other soft-drinks. Open for lunch and dinner. Did I mention that you can also get pizza for take out?
Another for the list of kid-friendly best places to eat on30A is The Hub, located at Prominence, on the eastern half of 30A. Complete with concerts and other entertainment on special nights, this outdoor dining and lawn is home to several different restaurants. You can find anything from fried chicken to tacos, and let your kids run free for a moment.
If you are willing to drive off of 30A, to Miramar Beach (traffic can sometimes be thick), you must try Fat Clemenza's, but leave the kids behind. Since the first time we tried Fat Clemenza's, it has been on my best places to eat on30A list. Most tourists never heard of it, but it is favorite amongst locals. As I said, its not on 30A, but its not too far removed and it's still in South Walton. They do take reservations, which I highly recommend. Cozy and quaint best describes Fat Clemenza's. Great food and great service help make a great evening. They are also open for lunch.
"With a name like Stinky's, it has to be good," so their tagline reads, and it's true! Stinky's Fish Camp, located on the western end of 30A, is definitely in my Top 5 for the best places to eat on30A, maybe even in my Top 2! Everything is made from scratch and fresh seafood is a hit! They have everything from raw oysters to Crawfish Pie (my personal favorite.) Stinky's Fish Camp is open for lunch and dinner, and they also serve Sunday Brunch. Great bar, loud and noisy, local music, nightlife, excellent food and service are all part of what makes Stinky's Fish Camp so perfect for 30A. I know it's a seafood place, but they also serve the best hamburger on 30A (lunch menu) and one of the best BBQ sandwiches on 30A.
Speaking of BBQ, in the airstream row in Seaside, you will find a hidden treasure – Barefoot BBQ, hidden in plain site. Smoked daily, Barefoot BBQ serves chicken, pork, beef brisket, etc, and the best macaroni and cheese in town. (The owner's grandmother's recipe is the source for the mac and cheese.) Sit and dine outdoor on 30A in Seaside and watch the world go by, but don't stay long because someone will be needing your table!
As long as we are talking about BBQ, I want you to know about 3 Sons Bar B Q, located on Hwy 331, just a few miles north of the bay, but south of Hwy 20. I don't leave town to eat often, but when I do, it's to go to 3 Sons Bar B Q. I knew Chris Vaughn, the owner/operator, when he cooked BBQ all day, just for fun, and as a hobby. This man knows how to slow cook. If you are driving down to 30A for the week, stop by 3 Sons Bar B Q and load up for your first night, so you won't have to wait in line to get in a restaurant with everyone else on 30A.
Before you get to thinking that I eat only BBQ and Pizza, I'm going to shift gears. Chanticleer Eatery may be the best hidden gem in South Walton. Yes, they do have a great BBQ sandwich, but everything on the menu is awesome! Best known for freshly baked breads, fresh sandwiches and salads, Chanticleer Eatery has earned their spot as one of the best places to eat on 30A, all by word of mouth. Chanticleer is one of the few restaurants which has succeeded, despite it being off the beaten path of 30A. Located just a couple hundred yards north of 30A from Grayton Beach, it is located behind my office at 30A Local Properties, near Frank's Hardware Store. You will see mostly locals at this popular place. The owner/operators are there everyday, making the best food daily. The sandwiches and salads are plentiful, so you may consider getting a half sandwich with a cup of soup. Two Must-Try items are the Grilled Cheese (with bacon) and the Coconut Macaroons.
On 30A, there are only three public places where you can dine in a restaurant overlooking the Gulf of Mexico. Of those three, Bud & Alley's Rooftop Bar is by far the favorite.  People come for the views and drinks, but they also serve the best Smoked Tuna Dip on 30A, and the BBQ Shrimp (I'm from the south, so I do enjoy BBQ) is the best I've ever eaten. Send your kids down to Bud & Alley's Pizza Bar while you enjoy one of Mo's Margaritas while enjoying sunset over the Gulf of Mexico in Seaside FL.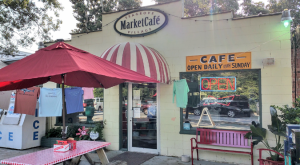 Seagrove Village Market also makes the list for the best places to eat on 30A. It's as casual as it comes and very representative of old Seagrove. A store up front, with restaurant in the back. Casual dining at its best. What's the most popular item on the menu at Seagrove Village Market? My guess would be the fried grouper sandwich. They also have some of the best fried oysters and fried shrimp in town. The atmosphere is nothing fancy, but service is good and the food always delicious. They also serve a small kids menu as well. Be sure to watch this video about the history of Seagrove Village Market:

Borago, located on 30A around the corner from Grayton Beach, is one of the best places to eat on 30A. This restaurant has been a crowd favorite for locals and second-home owners for many years. The food is delicious and the service is some of the best in town, even on busy nights. Be sure to sample the scallop appetizer, my personal favorite. If the dining room is full, find a seat at the bar, as you will have the full dinner menu available there too. They can certainly create a simple pasta dish for your kids, but you will be more comfortable without your young children. Borago does accept and recommend reservations. Open for dinner only.
For the romantic dinner escape, make reservations for evening dining at Basmati's. (They are also open for lunch.) Often overlooked by tourists, Basmati's has built its business over the years by word of mouth. The menu is a welcome relief to the palate, from most restaurants on 30A. Give Basmati's a try — you won't be disappointed.
To learn more about local places to eat on 30A and beyond, I highly recommend you follow Food + Travel writer, Susan Benton's, posts on 30A Eats. I promise that it doesn't cost you any calories just looking at the photos of food.
Now you know enough places to eat on 30A to keep you busy for an entire week.
[idx-quick-search format="horizontal"]