Under Contract | 124 Hilltop Dr | Dune Allen
124 Hilltop Dr – Under Contract!
124 Hilltop Dr  – Boho Modern hits 30A, Designer: Kimberly of Tipton-Valentino Designs.
Architect:  Tyler Doin.     Builder:  Wes Limbach
Kimberly's Inspiration for 124 Hilltop Dr:
"Wanting to mix modern with comfort, and create a style that would be loved for many years was the goal for the design of 124 Hilltop Drive! My inspirations come form allowing nature to speak for itself. I like to use wood and stone in a way that welcomes you home! All the wood inside the home is smooth cypress, unstained and clear coated. The movement within the wood creates a natural art and brings warmth into the room against the white walls.
Two surprise concrete features, the fireplace in the living room and in master shower, take the design to a more modern industrial place. However, they are paired with the wood, allowing what typically should be something cold to actually invite you in to a warm place of comfort. Notice the concrete is also in the fixtures, sinks and of course the entire tile flooring throughout the home. I'm not one to have a repeat in patterns or to stick to one consistent direction. I like to mix it up but make it flow! You will see every room has a design element that would leave people talking, but would also stand the test of time! Each room has a featured wall, very different from the next. The room is then designed around that accent feature to include texture and other various forms of art.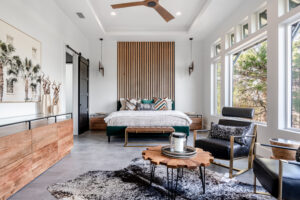 I would have to say my favorite room to work on was the open concept kitchen, dining and living. It gives plenty of space for flow and function. The huge round rattan fixtures were my inspiration pieces for the entire house. The woven fixtures in the kitchen are statements within themselves. I chose to do a straight stack black back splash, again a modern twist. It pairs well with the warmth of the natural cypress cabinets and allows the rattan pendants to pop! Last but not least, the entry stairs and two toned wood wall complete a two story piece of art that blends modern and comfort! Warm and dark, straight and sleek, a one of a kind entry to welcome you home! The art doesn't stop in this house. I brought in several local artist and a few from afar to add to the design. I love to include others talents into my work to pull the look together. I hope the new owners will appreciate all the forms of art that went into creating this marvelous home. Bohemian vibes with a fair of modern design, it takes an artist to create a canvas! My canvas just happened to be 124 Hilltop Drive!"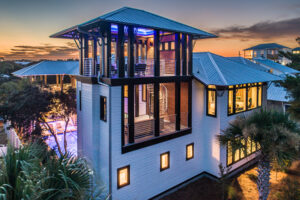 Architect: Tyler Doin
Tyler Doin grew up on 30A and has lived here since 1978. He is a licensed architect, and has been practicing in the architecture business for 25 years. He also brings 40 years construction experience to the table. He prides himself in designing 30A lifestyle residences that meet client, subdivision, code, and environmental needs all while being unique.
Tyler Doin | 325 W. Shore Drive | Inlet Beach, FL 32413 | P: 850.231.9066 C: 850.54.9323 | Architect FL AR92117 | Email: Tdoin@embarqmail.com
Builder: Wes Limbach
Building along 30A for over 20 years. Custom Homes and Spec Homes
Artisan's Brought into the Design
Luke Langford Freeport FL: 12ft long dining room table
Laurel Galloney Santa Rosa Beach FL: art in the girls bunk bathroom
Marisa Silver Eugene, Oregon: Woven Tapestry in the Hall
Madison Stone Columbia, SC: Painted the picture of the boat by the door to garage from a photo Kimberly took along the river in France. The name of the boat means to choose night in French. It's a shrimp boat.
Kimberly Tipton-Valentino: two canvas in the living room taken at the Arcachon Bay, France. Also picture in the laundry a bike rack at a park Le Cap-Ferret, France
To schedule an appointment to see this home, call Murray Balkcom, Broker Associate with 30A Local Properties at 850-830-2475.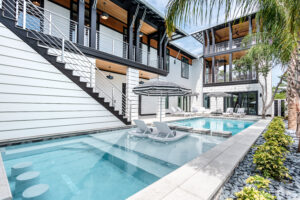 30A Iconic Homes hits the target on the design of this 30A  home in Dune Allen with a fresh new interior look by Kimberly Tipton-Valentino! Detailed finishes everywhere you look in this home, with patterns or colors tying design elements together. The world's most beautiful beaches are located at the end of the street and Regional Beach Access with parking, lifeguards and restrooms. With 5100 sqft of Architectual style designed by Tyler Doin and built by Wes Limbach, this house is a true one of a kind! The uniqueness of this 7 bedroom/6 bath home will leave you in awe! Courtyard entrance greets you with tranquility! Unwind and relax as you see and hear the flow of fountains and bubbles from the amazing pool and spa. Enter the home and immediately fall in love with the featured art wall and open stairs. Kimberly of Tipton-Valentino Designs has brought her Boho Modern Style to 30A with a twist to every room.
Featuring open concept gourmet kitchen with wolf range appliances, 12 ft long custom made dining table by local Luke Langford, floor to ceiling concrete fireplace room, 2 master suites, 2 bunk rooms, 2 guest rooms each having an on suite, a movie room, 2 laundry rooms, 2 half baths, over size two car garage with heated and cooled owners storage. Multiple porches allow families to spread out and enjoy outdoor living when you aren't at the beach. A grilling porch with outdoor dining, sleeping porch with a fireplace, upper porch with views of Oyster lake and the Gulf and last but not least a pool with sun shelf, fountains and spa with swim up bar seats to enjoy outdoor tv entertainment! This home is sold furnished! Art work by artistians: Madison Stone, Laurel Galloney, Marisa Silver and Kimberly Tipton-Valentino. Looking to invest or just call it home, you will not find another one like this on 30A! Come let the walls talk and tell you their story! They all will say Welcome Home!
Explore all Luxury Home Listings on west end 30A , Click Here.
Call Murray or go to Greater30A.com to begin your home search!
Murray Balkcom is Broker Associate for 30A Local Properties.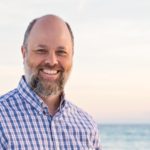 Murray Balkcom, Broker Associate for 30A Local Properties has 19 years of local real estate knowledge in South Walton and the surrounding Greater30A area. Place your trust in Murray's experience to handle all of your real estate needs.
Call Murray at 850-830-2475 today to ask about selling your property in Dune Allen Beach or the Greater30A area.
Remember Explore30A.com for all your local information.
Download Murray Balkcom's real estate app to search for homes, condos and town homes in the Greater30A area by going to 30ALocalApp.com