Sept 2019 30A Home Sales Bump 16.4% Over Sept 2018
Sept 2019 30A Home Sales Update
Santa Rosa Beach, FL – In Sept 2019, 30A Home Sales bump 16.4% compared to Sept 2018. According to Emerald Coast Association of Realtors (ECAR), in Sept 2019, Realtors reported 85 homes sold in the 30A area, totaling $81,399,650 in sold volume. In Sept 2018, there were 73 reported sales totaling $73,634,930. The 85 home sales on 30A marks the highest quantity sold for the month of September since ECAR has been keeping track. For quantity sold, Sept results ranked the 4th best Sept on record.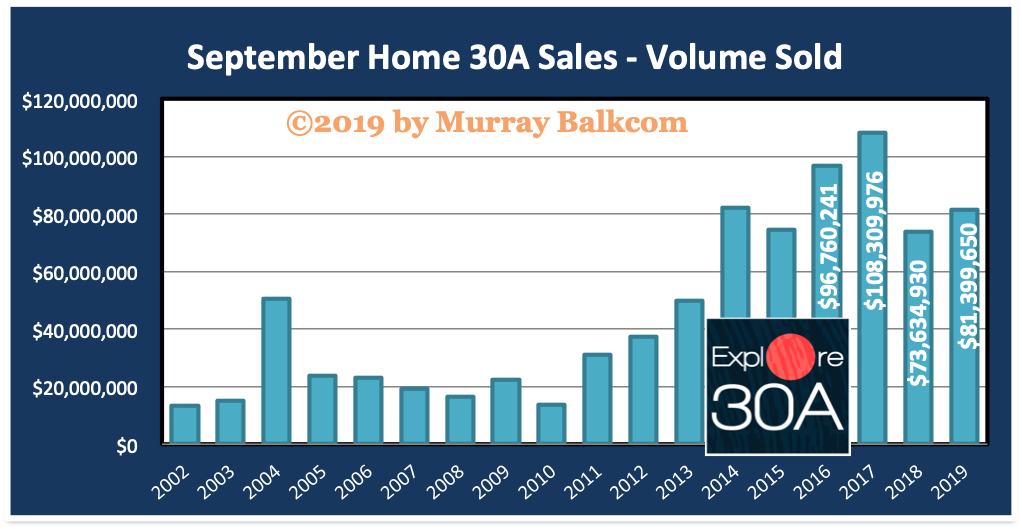 Median sold price for homes sold on 30A came in at $744,900, which is up 14.4% compared to Sept 2018. This represents the second highest median sold price for the month of Sept, only slightly behind 2017 numbers of $790,000.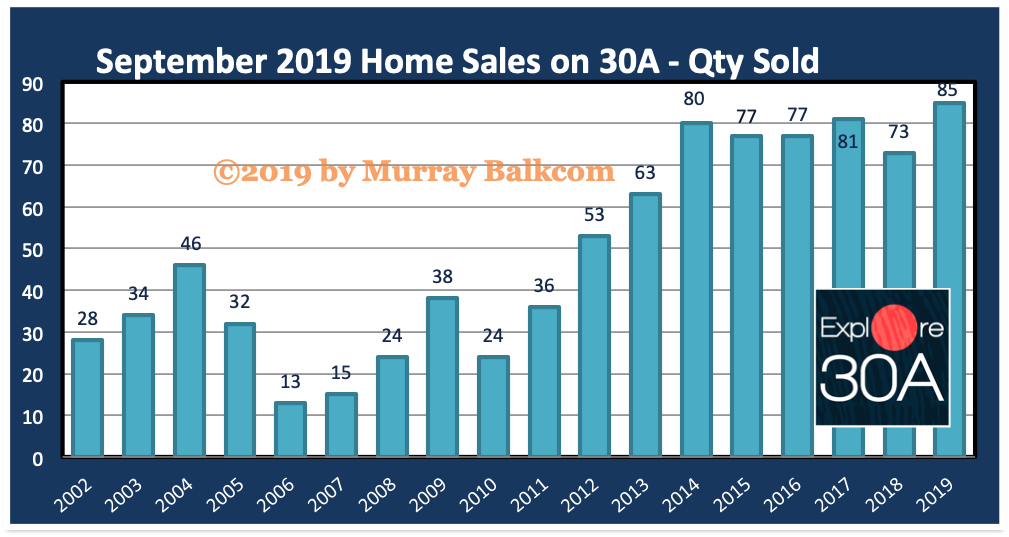 Average Days on Market (DOM) was down 43.8% compared to Sept 2018. For Sept 2019, Avg DOM was 82. In other words, of the homes sold in Sept 2018, it took on average 146 days to get a home under contract compared to only 82 days in Sept 2019. Avg Sold Price to List Price ratio was reported as 96% in Sept 2019, up slightly compared to 95% in previous Sept.
Though the quality, fit and finish of homes vary from one to the next, and may be very different from neighborhood to neighborhood, on average, 30A homes sold in Sept 2019 came in at $374/sf.  Inventory has bumped up 4.8%, with 719 on market compared to 686 on the market in Sept 2018. I expect that could mean that we see prices settle down a little bit as sellers compete to be the next sale.
Murray Balkcom is Broker Associate for 30A Local Properties. To search for properties in the 30A area + beyond, visit Greater30A.com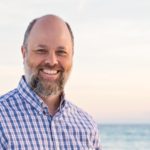 Murray Balkcom, Broker Associate for 30A Local Properties has 19 years of local real estate knowledge in South Walton and the surrounding Greater30A area. Place your trust in Murray's experience to handle all of your real estate needs.
Call Murray at 850-830-2475 today to ask about selling your property in the Greater30A area.
Remember Explore30A.com for all your local information.
To begin your search for beach homes on 30A or full time residence in the Greater30A area, go to Greater30A.com.
Download Murray Balkcom's real estate app to search for homes, condos and town homes in the Greater30A area by going to 30ALocalApp.com