August 2019 30A Home Sales
August 2019 30A Home Sales
August 2019 30A Home Sales  (by Murray Balkcom, Broker Associate, 30A Local Properties) – According to the Emerald Coast Association of Realtors, August home sales on 30A increased by 16.6% in 2019 compared to previous August. Realtors reported $111,196,764 in home sales for the 30A area in Aug 2019. This is up from the $95,345,913 reported for Aug 2019.  Quantity of sales were up 9.5% with 92 homes sold in Aug 2019. Average Sold Price was up 6.5% with the average home sale of $1,208,660.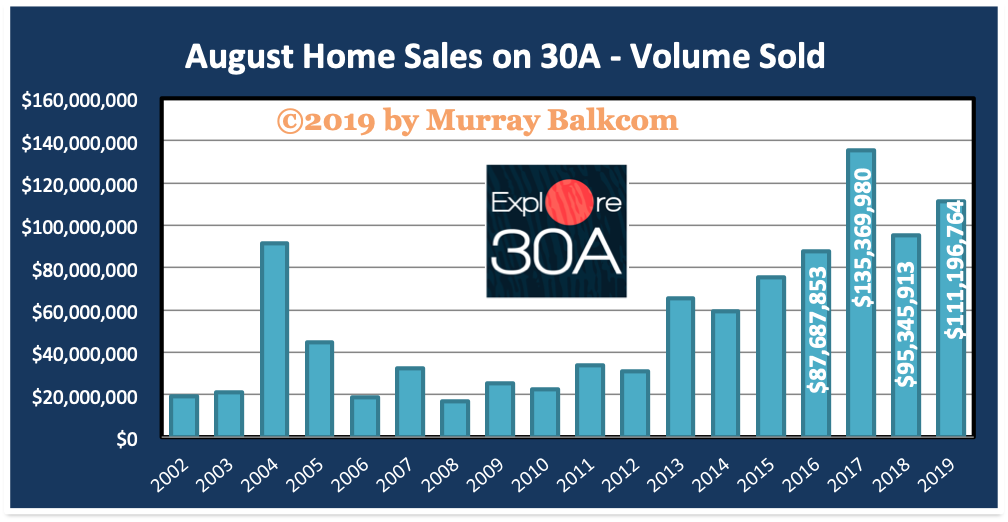 Homes are taking a little longer to sell with the average days on market reported as 127 days for the homes sold in August 2019. This represents a 21% increase in time on the market compared to Aug 2018. The other number everyone likes to monitor is the Average Sold Price to List Price Ratio. This ratio was 94% for Aug 2019. For anyone wondering, the Avg Sold Price to List Price Ratio shows us what percentage of the list price the home actually sold for. Inventory levels remain fairly stable dropping only .9% to 698 homes listed as of Aug 2019.
As the charts show, for home sales on 30A, August 2019 was the second best August on record. 
These numbers show us that buyers still have a slight edge right now. The months supply of homes is 7.6%. That said, the overall 30A market, it's challenging to find a good selection of homes, thus limited choices for buyers.
If you are interested in learning more about a specific neighborhood in the Greater30A area, please reach out to Murray Balkcom, Broker Associate for 30A Local Properties at Murray@30ALocal.com.
Murray has been selling real estate on 30A since 2002. Put Murray's local experience to work for you!
If you are thinking about selling your property in the Greater30A area, please visit HomeValuesOn30A.com 
and complete the brief form and Murray will be in touch.
Thinking of buying a property in the 30A area or beyond, go to Greater30A.com to start your search.