WaterColor Home Sales Continue to Set Records
2017 WaterColor Home Sales Continue to Set Records
WaterColor Home Sales Continue to Set Records in 2017, with $179,479,128 reported home sales, according to Emerald Coast Association of Realtors. 2017 is the strongest year on record in WaterColor for home sales, with 2016 ranking second best, with $167,542,000 reported.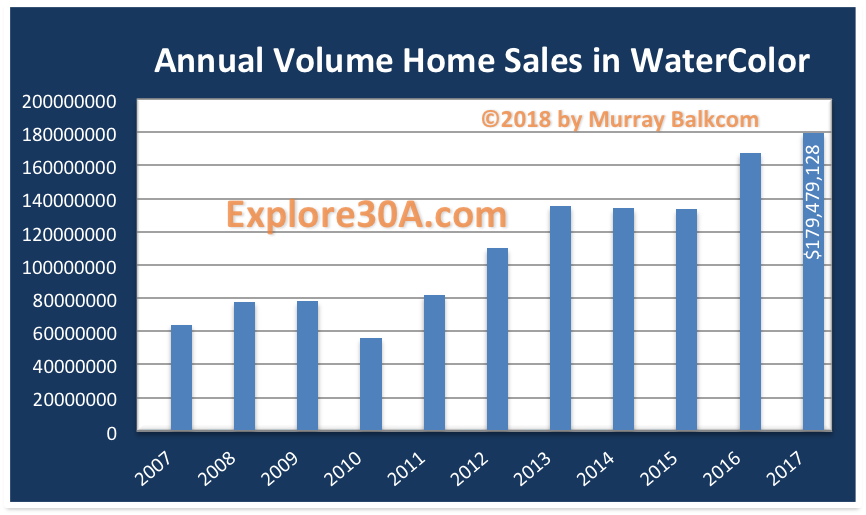 The quantity of sales reported for 2017 was 101, which is down slightly from 2016's reported 108 home sales. With those numbers it's not surprising to see that the Median Sold Price for 2017 was $1,550,000, which is also a record high, beating 2016 second best with Median Sold Price of $1,327,500. The median home price is the number where half of the sales are below that number and half are above. The median sold price is a much better gauge of market movement than Average Sold Price, as the Avg gives more weight to the really low and really high sales.
For 2017 WaterColor Home Sales, we see the average days on market moving up slightly to 199 days, with Avg Listing Price also bumping to $1.88 million, from 2016 Avg List Price of $1.64 million. The avg listing price bump has a direct correlation to the longer days on market.
Sold Price to List Price ratio for 2017 was 94%, which has been constant for four years now.
WaterColor Home Sales continue to be strong, but we are likely to see some stabilization based on the days on market increasing 34%.  If sellers will price their properties appropriately, we should continue to see a strong market for WaterColor home sales.
Explore WaterColor Homes for Sale
What is my WaterColor Home worth?
Murray Balkcom is Broker Associate with 30A Local Properties located in Grayton Beach, FL, proudly serving the Greater 30A real estate market since 2003. If you are considering buying or selling property in Seacrest Beach or the Greater 30A area, please call Murray Balkcom for a free consultation.
Explore 30A Neighborhoods.
Find and Follow Murray Balkcom: 
Murray Balkcom | Empowering People to Maximize Their Real Estate Goals and Dreams